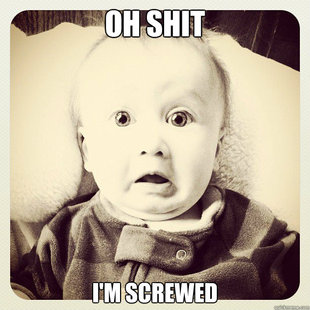 Hmmm... I hope I am not slapping my face with this entry because I ranted about
being yourself in the previous one
.
It could be my sense of privacy, or whatever, but I always feel uneasy whenever people who fucks with me, reads my blog. Yes tops who are reading this now. You may be freaking out over my "ratings" for your fucking, but I too feel weird when you read it.
Especially those whom I profess an interest to date with.
Now it's not as if I put on a virginal image for the guys I date/like to date; it's just that my blog is the part of me that is very liberated sexually in a sense, and I am just not ready to divulge that to you. I mean, while I like to lay my cards out in the open for you, I shy a few steps from putting out everything like a buffet table!
That is why I was alarmed when this guy I have been flirting with told me last night that he actually reads my blog. I went apeshit and immediately checked him out on Facebook since he said that we are on each other's list, and which I was not aware of; I have too many people on my list to keep track. To my horror, he is, and we share more than 10 mutual friends! How the hell when did I add him?? LOL!!!
I "panicked" a little and told him, and he asked me why, which is why I am writing this in an attempt to rationalise my wild behaviour. I dislike giving forth the first impression that I am a sex crazed sex starved nymphomania. It HAPPENED before, and my date tried to insist me giving him a blowjob right in the theatre, and upon my refusal, in the theatre restroom because apparently, he read my sexvendures, I did & like public sex, and I am not closeted.
Needless to say I did not contact that guy after that, and as a result of that, I prefer if my dates not know of my blog or online activities. Let's face it, my online persona shows a very one sided aspect of me though people don't seem to realise it and they think what they see online is what they have in reality.
It does not bother me much if you are involved in fucking me, and you read my blog. However the moment it crosses to date realm, I become uneasy, freaked out and uncomfortable. I do not mind much if you judge me, but I disliked being taken as a one dimensional personal. I don't care if my FBs take me as one, but I don't want/like my dates doing so.
Current Mood:

grumpy

Current Music:

Nuradee - I Can See Clearly